DISSOLVE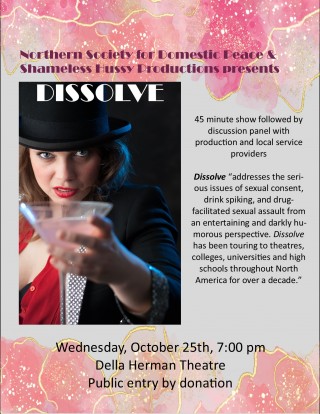 Following a college girl on a night out, moving back and forth from bedroom to bar scenes, one actress plays 16 characters, both comic and dramatic. Night turns to morning, and the character awakens from her ordeal as a disoriented yet brave survivor. This show is designed to provoke thought and dialogue around date rape and consent, ultimately challenging our thinking and behaviour surrounding alcohol, drugs, and sexual assault.
NSDP is hosting this one night only event to raise public awareness on the Society's Sexual Assault Services program, operating in Smithers, Houston, and Hazelton. In bringing this powerful performance to Smithers, NSDP hopes to spark conversation in our community about the importance of supporting survivors of sexual violence, and understanding consent and bystander intervention.
Please join us on October 25th, 2023 at the Della Herman Theatre. Doors open at 6:30 pm, show at 7:00. Entrance by donation.