NSDP receives donation of new vehicle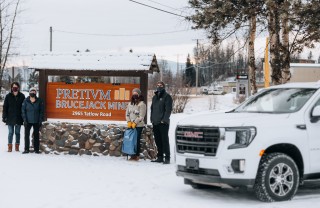 The Northern Society for Domestic Peace (NSDP) is pleased to extend our most heartfelt gratitude to Pretium Resources, the owner of Brucejack gold mine in northwest BC for their impactful contribution to services for women and children in Houston, Smithers, Hazelton and outlying communities.
Nowhere is the need for safe transportation for women more apparent than in the communities surrounding Northern BC's Highway 16. For decades the road has been known as the Highway of Tears for its sad legacy of missing and murdered women and girls. Often, these disappearances can be linked to women with limited resources being unable to access safe transportation between communities. There are plenty of reasons why women living in rural communities hitchhike. Women who are fleeing domestic violence or experiencing immediate crisis may not have access to a vehicle and can be unable to get someone else to drive them. With severely limited public transportation options, those who need to access essential services are left with few good choices for navigating the long stretches of remote highway between towns.
For over 30 years The Northern Society for Domestic Peace has been providing shelter, counselling and support services to women, children and families in our region. As part of our transition house and counselling services for women fleeing violence or experiencing crisis, NSDP provides an array of outreach supports that often include help shuttling individuals between communities.
Sometimes NSDP can donate gas cards or other forms of assistance to clients for their own transportation but often women need NSDP staff to drive them or staff must commute to remote communities to provide service. Supporting women and children in this way is made increasingly difficult with extreme weather, rural roads, long distances between communities and expensive vehicle repairs and maintenance.
NSDP is humbled and pleased to acknowledge Pretium Resources for recognizing this need in our community and donating a 2022 GMC Yukon XL to the Society. This new vehicle comes at a time when NSDP was retiring itssecond hand passenger van,as it was no longer road safe. Pretium's donation will allow transition house and outreach staff to provide comfortable, safe transportation support to women and children accessing the transition house and services in our region and will be a valuable asset to the operations of our new second stage housing program. Pretium's donationis a significant gift for Domestic Peace and a generous acknowledgment of the need to provide safe passage for women in our communities.
Whether it's helping a woman move household items to a new home, taking an elder to manage personal affairs in town, transporting staff to provide services remotely, or getting a mother and her children to appointments, this new, safe vehicle will help NSDP staff reduce some of the transportation barriers that create increased risk of violence for vulnerable women in our northern communities.